Cricket has completely taken over other sports in India; even if there have been gold medals in sports like Archery and World Rankings in Badminton – other sports are not as popular as cricket is.Besides Cricket and Football, racket sports like Badminton, Tennis and Squash are gaining the deserved popularity. Professional players have to undergo intensive training to be able to represent the country at various tournaments.
Here's Your Chance!
Are you good at racket sports? Interested in representing your country for a fun-filled sport, without having to undergo the struggle of intense training/competition?
Here's What's New!
What is Padel?
Padel is a unique sport that combines the best elements of Tennis and Squash while eliminating the frustrating aspects of these sports. As a result Padel is exciting and entertaining to watch and play!
Who are we?
InPadel is a state-of-the-art company offering quality Padel solutions, involving Design, Construction/Installation & Management of Courts, integrated with Coaching & Organising Events. It is the first company to launch and develop the sport of Padel in India.
"Our objective is to promote and develop the sport of Padel in India and take it to a professional level'', says InPadel Founder- Mr. Bhavish Bachu.
He adds, '' We will organise tournaments and select budding talent to represent the country in International competitions such as the World Padel Tour and World Padel Championship."
InPadel has partnered with some of the most reputed Padel brands around the globe. These include Adidas Padel and Dropshot.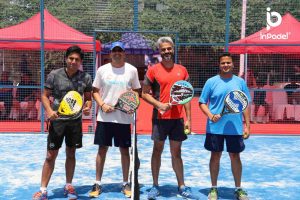 Bengaluru has the privilege of India's First Padel court! The company soon plans to set up courts across major cities like Chennai, Hyderabad, Mumbai, Pune, Goa and Delhi.
To stay updated on all the Padel events across the country, follow the below pages on Facebook!
Visit our Website and download our mobile app for exciting offers on Membership & Coaching!