Over two decades with a racket in the their hand and still successful in staying at the top of their game. Talent surely does not have an expiration date.
They've crossed the psychological barrier of reaching the age of 40 but have still managed to stay in Padel's elite. They're winners, they have talent and they're not ready to hang up their racket before handing out a few more master classes. Like good wine, they improve over time. Here is our list of old rockers, feisty veterans who set an example that, the more you play; the better you get!
Maxi Grabiel (12/08/1976) The Argentine has had a racket in his hand his entire life. This tireless Padel player has shared the court with the best in World Padel for over two decades. Grabiel is a reference on tour; a role model for many other players, as well as being the partner that everyone aspires to have. He has managed to keep up a remarkable standard of play. Last season, alongside Ramiro Moyano, he ranked 13th and reached the Master Final. An example of what it takes to stay at the top after reaching 40.
Marcello Jardim (14/07/1973) "You've made a pact with the devil" is a phrase that Marcello has become used to hearing over the years, while he shows a humble smile. The Brazilian, who has been at the top for years, ended 2016 alongside Franco Stupaczuk in 16th place in the rankings, which earned him a place in the Masters. A tireless player on court who proves that, despite having surpassed the age of 40, he can compete in matches that go beyond three hours. Like Gilberto Gil or Caetano Veloso, Jardim's bossa nova continues to make noise on the courts of the World Padel Tour.
Guillermo Lahoz (26/08/1971) The Wizard Lahoz is the longest serving genius on tour. However, the twilight of his career has brought him his best performances. Willy hasn't only prolonged his career past the age of 40, but he's now at the top of his game.
Willy's talent has enabled him to maintain himself in the higher echelons of the rankings for over two decades. Last year, alongside Aday Santana, his final third of the season was remarkable, reaching the semifinals at the Mendoza Open and qualifying for the Estrella Damm Master Final, where he also reached the final four with Aday Santana. The "grandad" of the circuit will play alongside the young Maty Marina this season.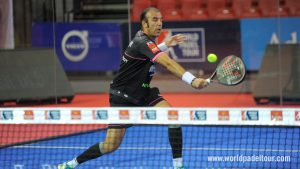 Fernando Poggi(18/07/1976) If you look at the Argentine's physique it's impossible to guess his age. Poggi is over 40 and continues to be a tough opponent. Power and quality enables him to go toe to toe with any player on tour. Alongside Álvaro Cepero, this backhand court player finished 27th in 2016. Just like his body, time hasn't had any affect on his competitive appetite and he is ready to continue in 2017.
Jordi Muñoz (19/08/1976) Like many other geniuses to come out of the Canary Islands, Jordi Muñoz possesses a never ending array of unexpected precision shots. Muñoz has spent years at the top, leaving people in awe, but most importantly, putting up a fight to everyone on the World Padel Tour.
He will once again play with Pablo Lijó this season, a player he summed up 1660 points with last season and ended 26th in the rankings. This season Muñoz will continue to showcase his magic from the forehand court, proving that talent has nothing to do with age.
Sebastián Nerone (24/06/1976) The Argentine has almost been on tour for 25 years. Throughout this time, Nerone has reached the top of world Padel and won everything there is to win. Despite this, Seba maintains his passion for this sport, and that keeps him going every day. He isn't satisfied with merely being on tour. Being at the standard of the very best and defending his place in the elite is what gets Seba going every morning.
This all-rounded backhand court player competed at a very high level with Alex Ruíz last year and reached the semifinals of the Buenos Aires Padel Masters. He will look to improve on is 24th place in the rankings and there's no denying Nerone will give everything to achieve that objective.
Gabriel Reca (10/08/1974) Just like Nerone (who he partnered in two different spells) Reca knows what it's like to reign in Padel. The secret is to stay at the top once you've handed over the crown. Gaby, who's been a professional for over 20 years, still has a place amongst the elite. Ranking 28th after ending 2016 with Juan Lebrón. This year, alongside Javier Concepción, Gaby Reca will be ready to prove he still has more than enough Padel to put doubters against the ropes. Considered to be one of the best forehand court players of all time, we believe that he still has plenty of chapters to write.
Padel can be enjoyed  by players between 10 to 70 years which includes men and women. The only fundamental requisite is that the four must have a similar playing level. It is a perfect sport for seniors as it represents a perfect intermediate between tennis and golf.
Padel does not require high athletic playing levels & qualities. It is not a difficult discipline to practice and it does not require complex skills to reach the intermediate level due to a fast learning curve. The learning curve is practically "vertical" during the initial months!