Bangalore Padel Championship V1.0 Overview On 7th March'17, InPadel Sports announced the inaugural event for the launch of Padel in India- The Bangalore Padel Championship V1.0, which was to be scheduled on 25th March'17. The team registration was an online process and all the slots were full within 24 hours of the announcement. This showed that people were really excited and were looking forward to play this new sport.
The team draws and schedule was announced and broadcasted via a live stream on Facebook, one day prior to the tournament. The event was held on 25th March'17, in PLaY Arena, Sarjapur Road. The excitement was on. A wave of anxiousness and curiosity surrounded the air, as onlookers were awestruck to see this new type of court and even more amazed by the design and aerodynamics of the Padel rackets. It was a great privilege to have Mr. K.V Gagandeep (IPS) as the Guest of Honour for this event.
The 16 teams showed up in high spirits and the participants belonged to different professional backgrounds like lawyers, businessmen, Doctors, VPs, CEOs Tennis players and coaches and students ranging from12-55 years of age which proved that Padel is a sport that can be enjoyed by everybody and it was delightful to see that all the teams were eager to be crowned as the winners of the first Padel tournament in India! Other prominent personalities who graced this event were Harshvardhan Umre- Additional Commissioner of Customs & KV Ganesh Prasad-Additional Commissioner of Customs.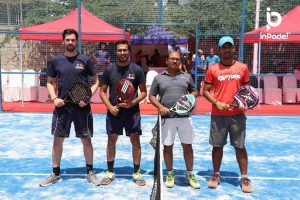 Number of Teams- 16 (32 players) Tournament Format- Round Robin & Knock-Out
Results: Semi Final 1: Archana Venkataraman/Sachin Kumar bt Shahul Anwar/Sagar Manjanna (3-5, 4-1, 10-7)
Semi Final 2: Kiran Nandakumar/Ajay C.D bt Akshay Murthy/ Sharad Sancheti (5-3, 4-2)
Finals: Kiran Nandakumar/Ajay C.D bt Archana Venkataraman/Sachin Kumar (6-2,6-2) The tournament was followed by an evening of music, dance, food and drinks.
#padel #indiapadel #inpadel #launch