Entry Level Certified Padel Training for Coaches
If you are a tennis/squash coach who is also interested to be a Certified Padel Coach, we at InPadel have to right solution for you. Our program caters from entry-level techniques to advanced level training.
Training Location– Bangalore
Time Period- Min. 2 days
Duration– 8 hours
Our Philosophy
The primary aim of InPadel Sports is to promote and develop Padel in India.
The sport of Padel is driven by demand for products and services by an ever-increasing number of players and enthusiasts and is predicted to grow very strongly in India over the next decade.
This growth will fuel demand in the sports training sector, as it receives a growing number of requests for training courses and academies aimed at teaching Padel to enthusiasts. To adequately fulfil this demand, it is vital that the coaches who deliver these courses have in turn received quality training.
 InPadel has developed this highly effective program of Padel training courses that is are designed to enable coaches to develop, promote and increase Padel participation in their facilities.
 InPadel Head Coach- Fernando Barrachina
Fernando Barrachina is a professional Padel coach from Spain. He has been playing Padel since a young age and received training from the world's best coaches. He continued to play at a professional level and achieved his highest global Padel ranking of 156. Fernando was a regular player of football and tennis, until he was introduced to Padel in 1999 and admits that he could not stop playing and teaching it, ever since.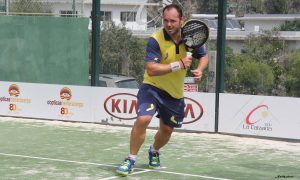 Program Highlights
Introduction to Padel: Rules, Basics & Game-play
Technique, Tactics, Physical and Mental Conditioning
Practical Training and matches
Efficient training methodologies
Theories related to Padel
 InPadel Level One (Entry-level Coach)
Duration-  Min. 2 days
Only available to Qualified Level 1 or above tennis/squash Coaches with 1+ years experience
Learning Outcomes:
Able to play and teach Padel at an Introductory level.
Successfully design Padel lessons with basic training & drills.
Coaches will be able to implement Beginners' coaching programs across different environments (Clubs/Schools/Corporates)
*The program will be a mixture of on-court and lecture room learning environment.
Our training courses for coaches will provide future professionals, all the required tools to help them build and develop solid academy programs.

For additional information, Call/ WhatsApp on +91 7259205546.