InPadel Sports is the First sports-start up company in India that is dedicated  to offer quality Padel solutions which include Design, Construction, Installation and Management of Padel courts, integrated with Coaching and Organising Events/Tournaments & Leagues. 
A mix of Tennis & Squash, Padel is an energising racket sport that has taken the world by storm. Invented in 1969, in Mexico, it is played in doubles on an enclosed court made of glass and wire mesh and is thus nicknamed as ''Tennis with walls'' & ''Squash in the sun.'' It has gained immense popularity in the recent years, and is now played in over 30 countries across 5 countries by over 20 million participants and is officially the Fastest Growing Sport in the World.
Click here to see the Basic Rules & Regulations of Padel.
Padel: The Fastest Growing Sport in the World!
ABOUT INPADEL SPORTS (P) LIMITED
InPadel Sports (P) Ltd was formed in March, 2017 by CEO- Bhavish Bachu, with the objective of engaging the audience and developing this sport in India. From Supply & Installation of Courts and Distribution of Padel products, all the way up to Leagues  and Coaching Programs by Professional Trainers, InPadel is fully equipped for it all! Click here to view their range of services offered.
Official Launch of Padel in India
INPADEL'S STORY
According to CEO -Bhavish Bachu, "We are very excited to introduce Padel in India. I have been born and bought up in Portugal where Padel has been popular for more than a decade and I can vouch that anyone who plays it for the first time will appreciate the simplicity and addictive nature of the sport."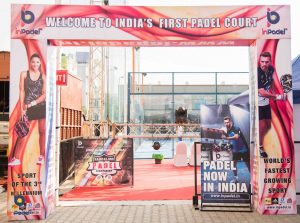 India's First Padel Court at Play Arena, Sarjapur (Bangalore)
Today, Padel is the second most played sport in Spain. Further, he pointed out, Padel is an inclusive sport, physically less demanding than Tennis that can be played by individuals of ages 6-80 years old. The exciting nature of the sport also allows it to be enjoyed by families and group of friends.'' For Bhavish, bringing Padel to India has been a dream come true. According to him, having witnessed the phenomenal growth in Europe and during his two recent visits to India, he was convinced the sport would have a big reception here.
Bangalore Padel Championship v2.0
Further, he pointed out that there is a growing awareness about fitness in India and Padel, being a recreational sport sport that can be played by all, irrespective of gender, age and social background, is bound to catch the imagination of racket sports enthusiasts. Click here to see the Benefits of playing Padel.
Padel Court Measurement- 20m x 10m (2,200 sq. ft)
THE BIG PICTURE
World Padel Tour
Padel is now played in more than 30 Countries across the World;
In few European Countries there are more Padel players that Tennis;
In 2014, Padel overtook Tennis to be the second most played sport in Spain, with more than 15,000 Padel courts.
In many European countries, most of the Tennis Courts have been converted to Padel Courts. This is due to the high return on investment and better utilisation of space. (1 Tennis court can accommodate approximately 3 Padel courts with 3×4=12 players )
After Football, Padel is the major revenue generating sport across Clubs in Europe; (Industry worth estimated at 500 million Euros)
The World Padel Tour (WPT) is the most important professional Padel tournament in the world and each year there are between 15-20 WPT tournaments plus a Final Master in which the best pairs of the ranking compete.
The Road Ahead…
#PadelWars with 94.3 Radio One Bangalore
InPadel envisages a bright future for Padel in India. Their goal for them is for Padel to be among the 'Top 5 Most Played Sports in India. To achieve this objective they envision that every multi-sports facility needs to be equipped with infrastructure to popularise Padel. They target to have at least One Lakh players in the next five years, who play Padel professionally or as a recreational sport.
InPadel is delighted to have the opportunity of introducing this exciting racket sport in India and to kick-start their operations, they have currently setup and begun operations in 2 Padel courts across Bangalore. The response has been very positive across all age groups, with more than 500 participants who have tried their hand at Padel. The company has already organised 2 Padel tournaments- Bangalore Padel Championship v1.0 & v2.0 and is currently organising a Padel League which includes a systematic Ranking System for players. Interestingly, 30% of Padel players are women as compared to 15% in other racket sports. This is a perfect opportunity for Indian women to be a part of this unique sport.
Padel Court in Hennur-Bagalur Road (Bangalore)
Current Padel Court Locations:
InPadel League'17
Padel has the potential to be an exciting recreational activity, especially in large Metropolitan Cities and as part of their Business expansion plan, they are currently in the process of setting up the Courts in Chennai, Mumbai and Delhi.
Padel Courts can be installed Indoors & Outdoors
So what are you waiting for!? Gear-up and fall in love with Padel!
CAUTION: Highly Addictive
Padel Rackets- Adidas & DropShot
Visit www.inpadel.in for more info about Padel in India or follow InPadel Sports on Facebook & Instagram for all the latest Padel updates!
InPadel Sports (P) Limited